The CN Journal Sample Articles
Bank Tokens
by Anon
These tokens are surely the best known amongst those which were issued during the English period.
The obverse represents a person on foot, whose dress is very characteristic of a typical inhabitant of the period. Above is Province du Bas Canada, and below the denomination in French. The reverse carries a shield which is quartered. The quarters are filled with a rose for the English, a thistle for the Scots, a shamrock for the Irish and a beaver for the Canadians. The inscription reads Concordia Salus. Above the shield are the words "Bank Token" and below is the date 1837 and the denomination in English. The motto "Concordia Salus" implies that working together in peace and harmony the people will attain success for all.
In reality the reverse of these tokens carries the Arms of the City of Montreal which were adopted in 1833. They were designed by Jacques Viger, a former mayor of Montreal and engraved by James Turpin about 1830.
All these pieces are similar except that each carries the name of the bank which issued it on the ribbon at the base of the shield.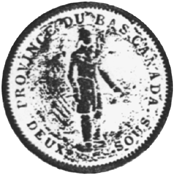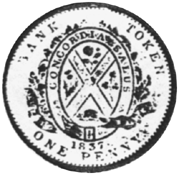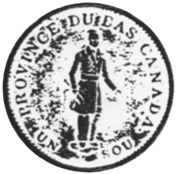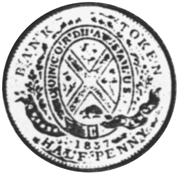 Jetons des Banques
par Anon
Ces jetons sont sûrement les plus connus parmi toux ceux qui furent émis sous le régime anglais.
L'avers représente un personnage en pied et très caractéristique d'un habitant du pays autour duquel est écrit Province du Bas Canada en plus de la valeur de deux sous ou d'un sou. Le revers est un écusson divisé en quatre quartiers par une croix. Ces quartiers sont remplis par une rose désignant l'anglais, un chardon pour un écossais, un trèfle pour l'irlandais et un castor pour le canadien, entourés par une inscription Concordia Salus. Sur l'extrémité en dehors de l'écussion sont gravés Bank Token One Penny ou Half Penny 1837. La devise Concordia Salus désigne que c'est dans la concorde et l'harmonie que les peuples réunis dans les affaires, parviendront au salut et au succès.
En réalité, le revers de ces pièces porte les armes de la ville de Montréal qui ont été adoptées en 1833. Elles furent dessinées par Jacques Vigner, ancien maire de Montréal et gravées par le graveur James Turpin vers 1830.
Toutes les pièces sont semblables excepté que chacune d'elles, porte le nom de la banque qui en a fait l'émission.
back to The CN Journal list of sample articles