Conventions
Official Convention Medals
Each year, The Canadian Numismatic Association strikes a limited quantity of official souvenir medals commemorating the annual convention. Struck in small quantities to assure they remain a very worthy collectible, they contain the official C.N.A. crest on the obverse, while the reverse features appropriate convention information.
The annual Convention medal, struck on copper blanks, may be obtained as part of the convention registration kit. It may also be obtained on a first come, first served basis once attendees' orders have been filled, via mail order in either silver (.999 fine) or copper metal. Details on availability and pricing will be published when the information becomes available. Details on ordering through the Internet will also be made available when pricing has been established. Medals may be ordered for pick-up at the Convention (either as part of the registration kit or ordered separately) or shipped out following the conclusion of the Convention for a small additional shipping fee.
Past Canadian Numismatic Association Annual Conventions
All images shown below are copyrighted by, and courtesy of, The Charlton Press
For more information on Convention Medals of The Canadian Numismatic Association please refer to:
Canadian Association Medals - Volume Two.
Author: William K. Cross, Editor: Jean Dale. Available from The Charlton Press.
click on an image for a larger view
Year Location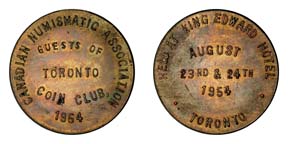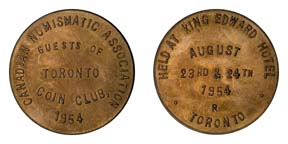 1st 1954 Toronto
(left to right above) No R above Toronto, with an R above Toronto. click on an image for a larger view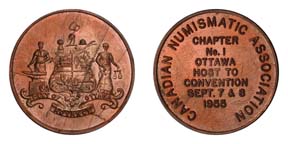 2nd 1955 Ottawa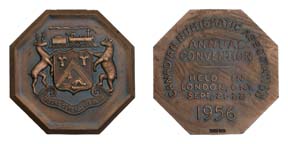 3rd 1956 London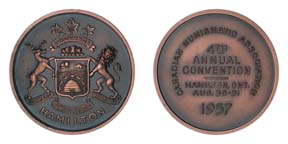 4th 1957 Hamilton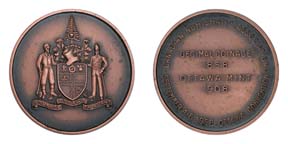 5th 1958 Ottawa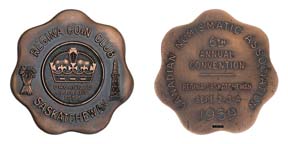 6th 1959 Regina

7th 1960 Sherbrooke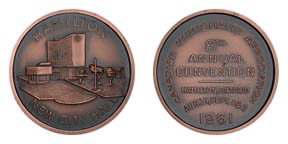 8th 1961 Hamilton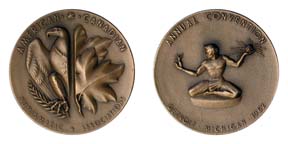 9th 1962 Detroit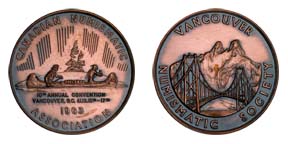 10th 1963 Vancouver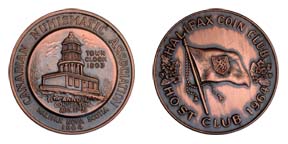 11th 1964 Halifax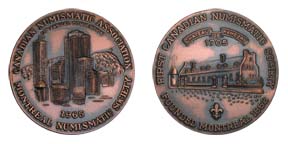 12th 1965 Detroit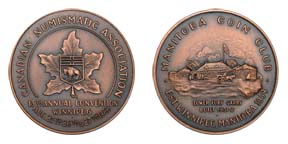 13th 1966 Winnipeg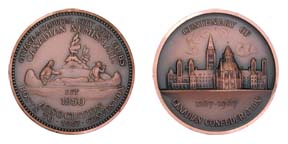 14th 1967 Ottawa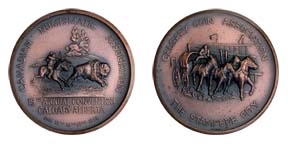 15th 1968 Calgary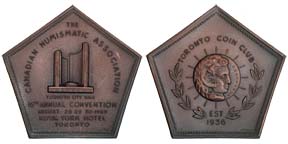 16th 1969 Toronto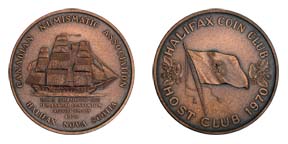 17th 1970 Halifax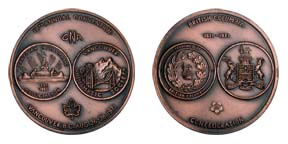 18th 1971 Vancouver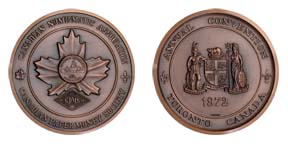 19th 1972 Toronto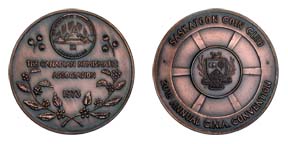 20th 1973 Saskatoon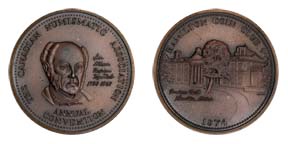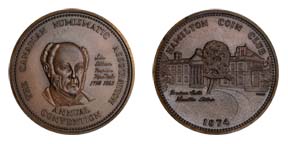 21st 1974 Hamilton
(left to right above) No comma after Hamilton, with a comma after Hamilton. click on an image for a larger view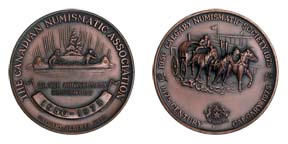 22nd 1975 Calgary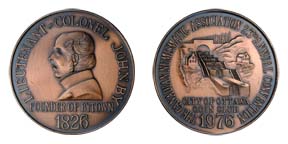 23rd 1976 Ottawa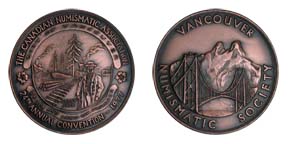 24th 1977 Vancouver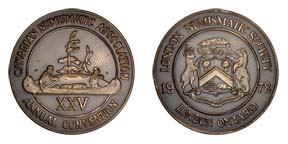 25th 1978 London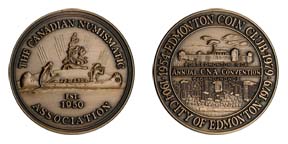 26th 1979 Edmonton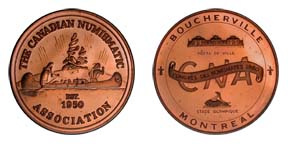 27th 1980 Montreal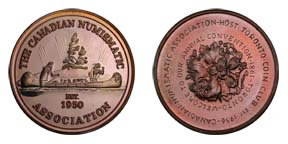 28th 1981 Toronto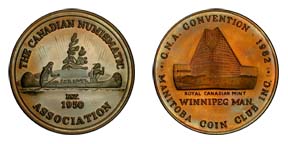 29th 1982 Winnipeg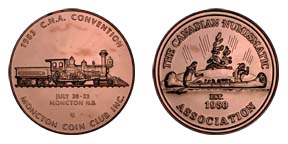 30th 1983 Moncton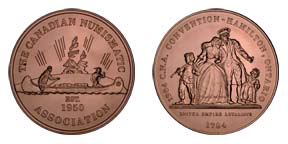 31st 1984 Hamilton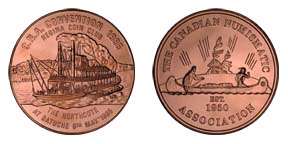 32nd 1985 Regina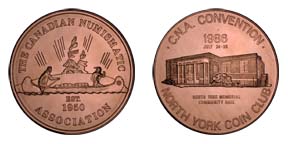 33rd 1986 Toronto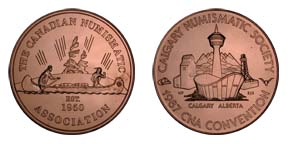 34th 1987 Calgary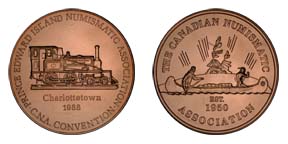 35th 1988 Charlottetown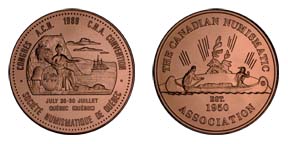 36th 1989 Quebec City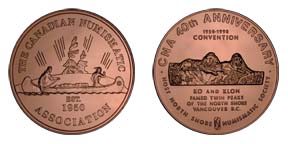 37th 1990 Vancouver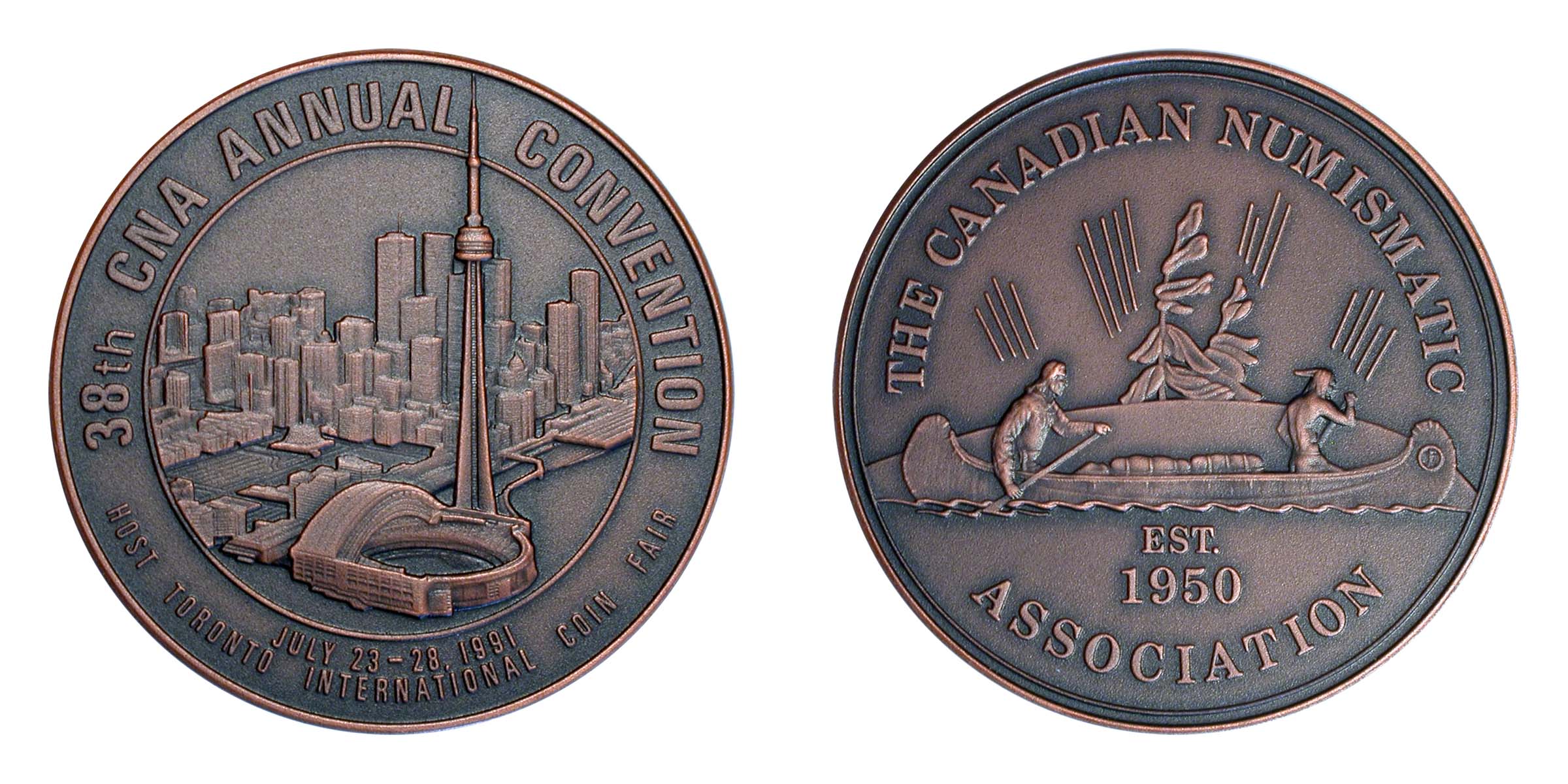 38th 1991 Toronto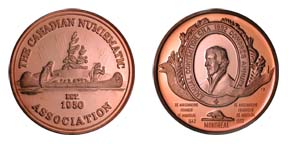 39th 1992 Montreal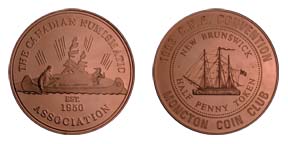 40th 1993 Moncton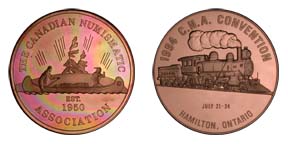 41st 1994 Hamilton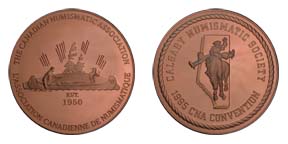 42nd 1995 Calgary, slogan: Head Your Tails to New Frontiers!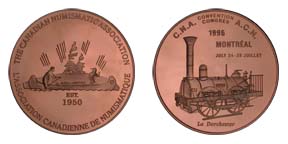 43rd 1996 Montreal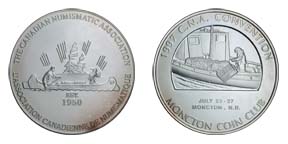 44th 1997 Moncton, slogan: Catch The Big One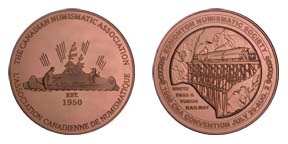 45th 1998 Edmonton, slogan: Join Us "on the trail of '98"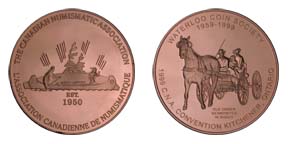 46th 1999 Kitchener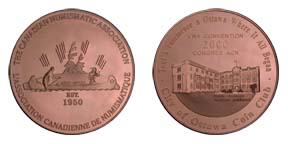 47th 2000 Ottawa, slogan: Là où Tout à Commencé OTTAWA, where it all began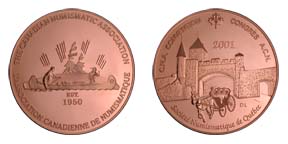 48th 2001 Quebec City, slogan: A Numismatic Odyssey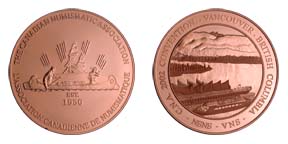 49th 2002 Vancouver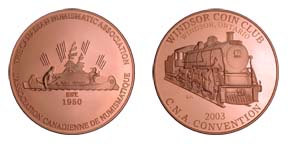 50th 2003 Windsor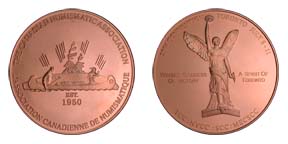 51st 2004 Toronto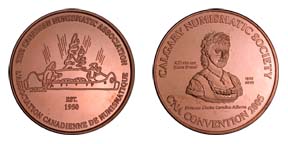 52nd 2005 Calgary, slogan: Come Celebrate Our Centennial

53rd 2006 Niagara Falls, slogan: It's Not To Be "Mist"


55th 2008 Ottawa

56th 2009 Edmonton
2010 - 2014 forthcoming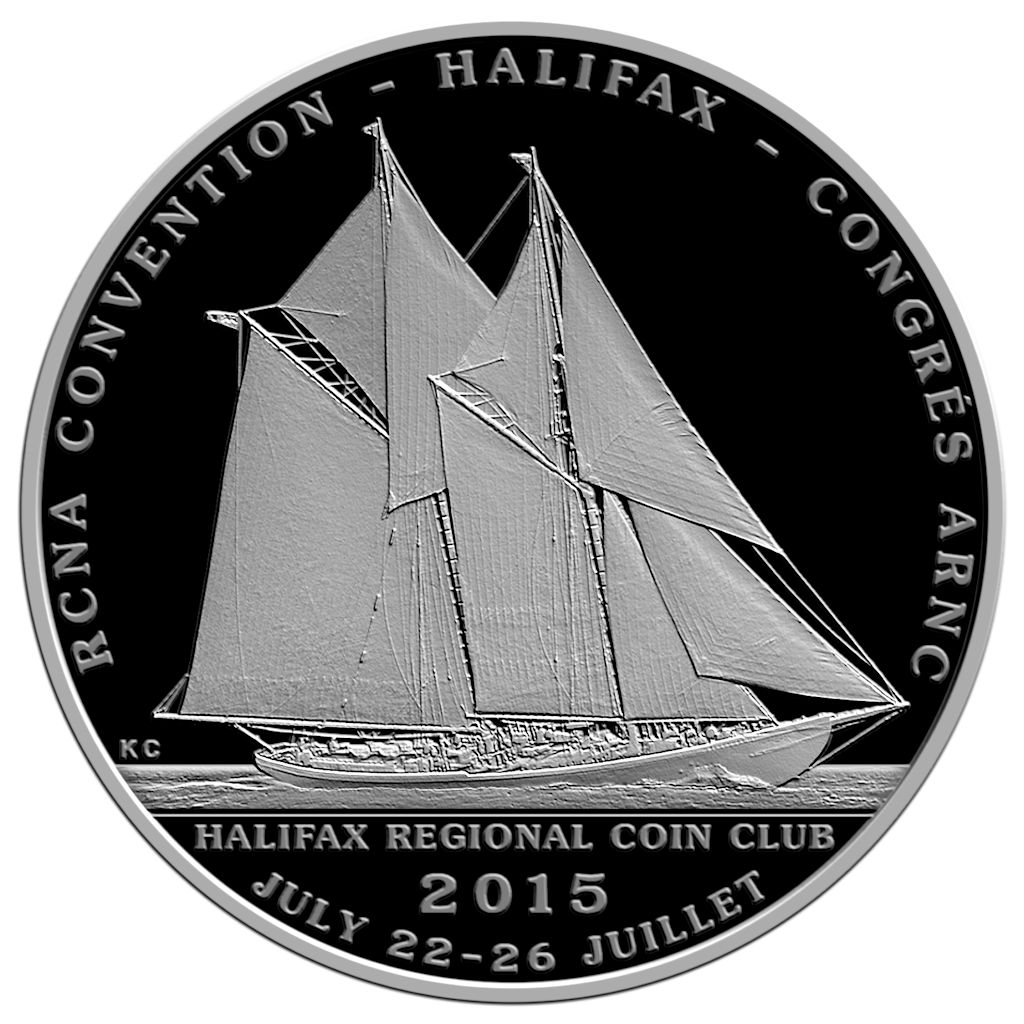 62th 2015 Halifax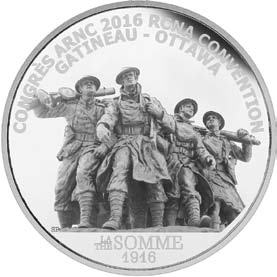 63rd 2016 Ottawa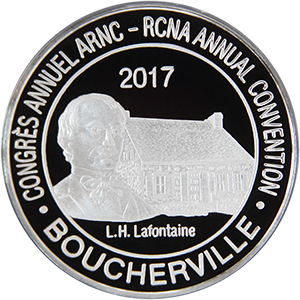 64th 2017 Boucherville