The CN Journal Sample Articles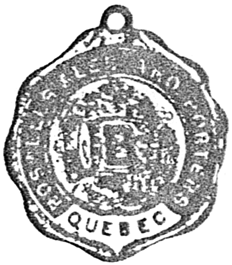 Boswell Token - Boswell Brewery
by Jean-Luc Giroux F.C.N.R.S.
John Knight Boswell arrived from Ireland in 1843 and established himself in Quebec City shortly after his arrival. He acquired the small brewery of John Race, Brasserie Racey, which was located on St. Paul Street and continued to operate it until 1852.
In 1853 he established his quarters at a location that the firm is still using today, on St. Vallier Street.
The Boswell Brewery occupies an historic location, that of the famous Intendant Bigot. The cellars of the former palace of the Intendant, the walls of which are eight feet thick, served to store the brewery's product. On the same site, Jean Talon, another Intendant during the reign of Louis XIV, established a brewery in 1688.
The Boswell Brewery is, without contradiction, one of the better equipped breweries in Canada. Its production is some 650,000 gallons per year. The malting house was built in 1889 and has a capacity of 32,000 bushels of malt.
After Mr. Boswell's death, his son Vesey took control. The operation continued until 1952, when Dow Breweries Ltd. acquired the business. Dow continued to brew in the old building until 1971, but in 1977 it sold the site to the City of Quebec which put in the Interpretation Centre that we presently know.
The medallion was produced circa 1925.
par Jean-Luc Giroux F.C.N.R.S
John Knight Boswell arriva d'Irlande en 1843 et s'établit à Québec immédiatement après son arrivée, soit en 1844. If fait l'acquisition de la petite Brasserie Racey de John Race, qui était située sur la rue St-Paul et continue de l'opérer jusqu'en 1852.
En 1853 il établissait ses quartiers à l'endroit qu'ils n'ont cessé d'occuper depuis ce temps-là jusqu'à aujourd'hui (rue St-Vallier).
La Brasserie Boswell occupe un emplacement historique, celui du fameux Intendant Bigot. Les caves de l'ancien palais de l'Intendant dont les murs ont huit pieds d'épaisseur, servent à l'emmagasinage des produit de la brasserie. Sur le même site, Jean Talon, autre Intendant de la Nouvelle France sous le règne de Louis XIV, établissait une brasserie en 1688.
La Brasserie Boswell est sans contredit l'une des brasseries les mieux outillées au Canada. Son rendement est de 650,000 gallons par années. Le bâtiment où l'on fait le malt a été construit en 1889 et il a une capacité de 32,000 boisseaux de malt.
Après le décès de M. Boswell, son fils Vesey prend la relève. Les opérations continuent jusqu'en 1952 alors que la Dow Breweries Ltd. fait l'acquisition de celle-ci. On continua de brasser dans le vieil édifice jusqu'en 1971, mais en 1977 la Dow Breweries Ltd., vend les lieux à la Corporation de la Cité de Québec qui en fera le centre d'interprétation que nous connaissons présentement.
Alors, ce médaillon souvenir remontre aux environs de 1925.
back to The CN Journal list of sample articles